April 2020 - Children in school have produced these pictures for the NHS Wellbeing Room at the PRH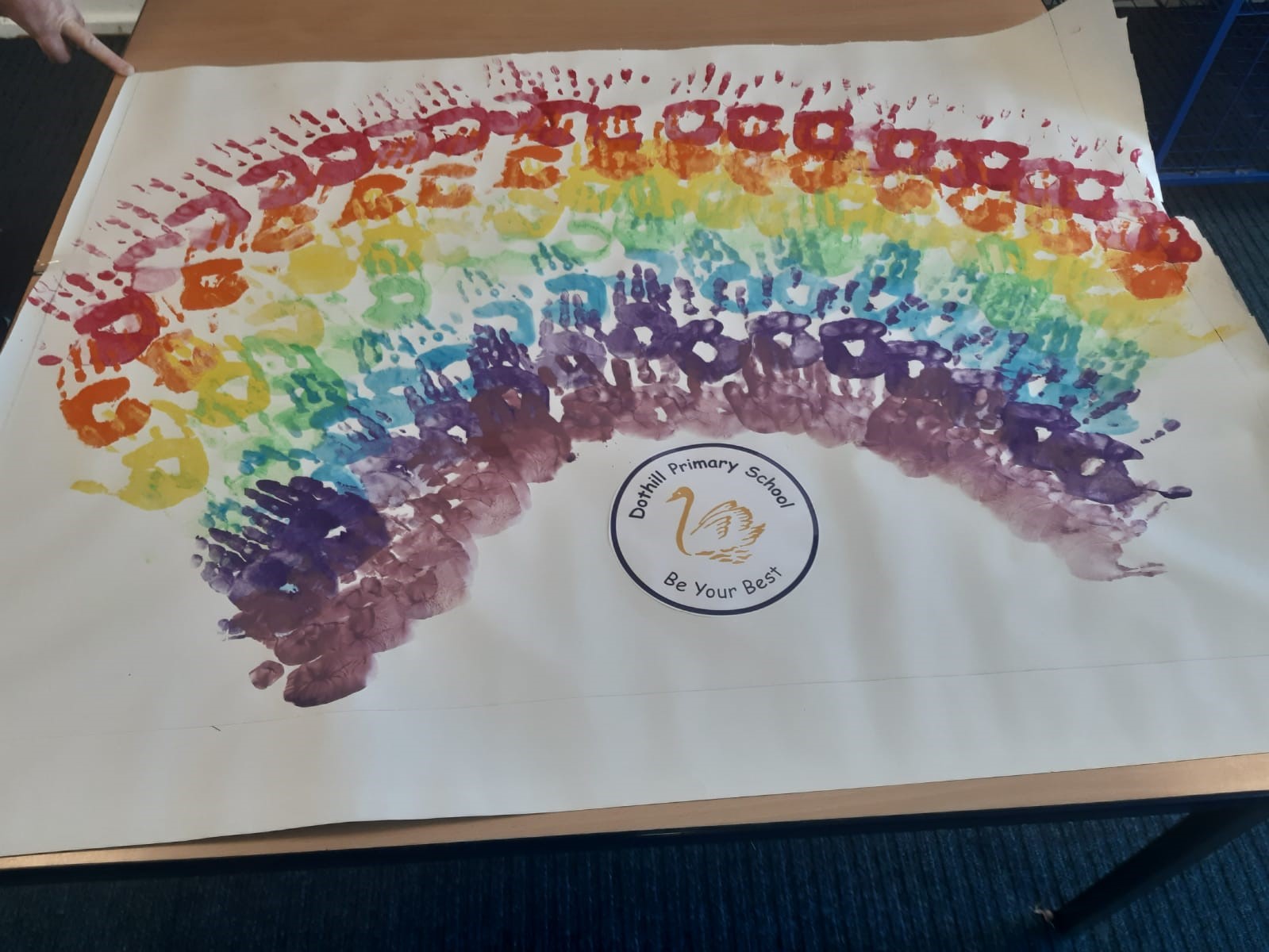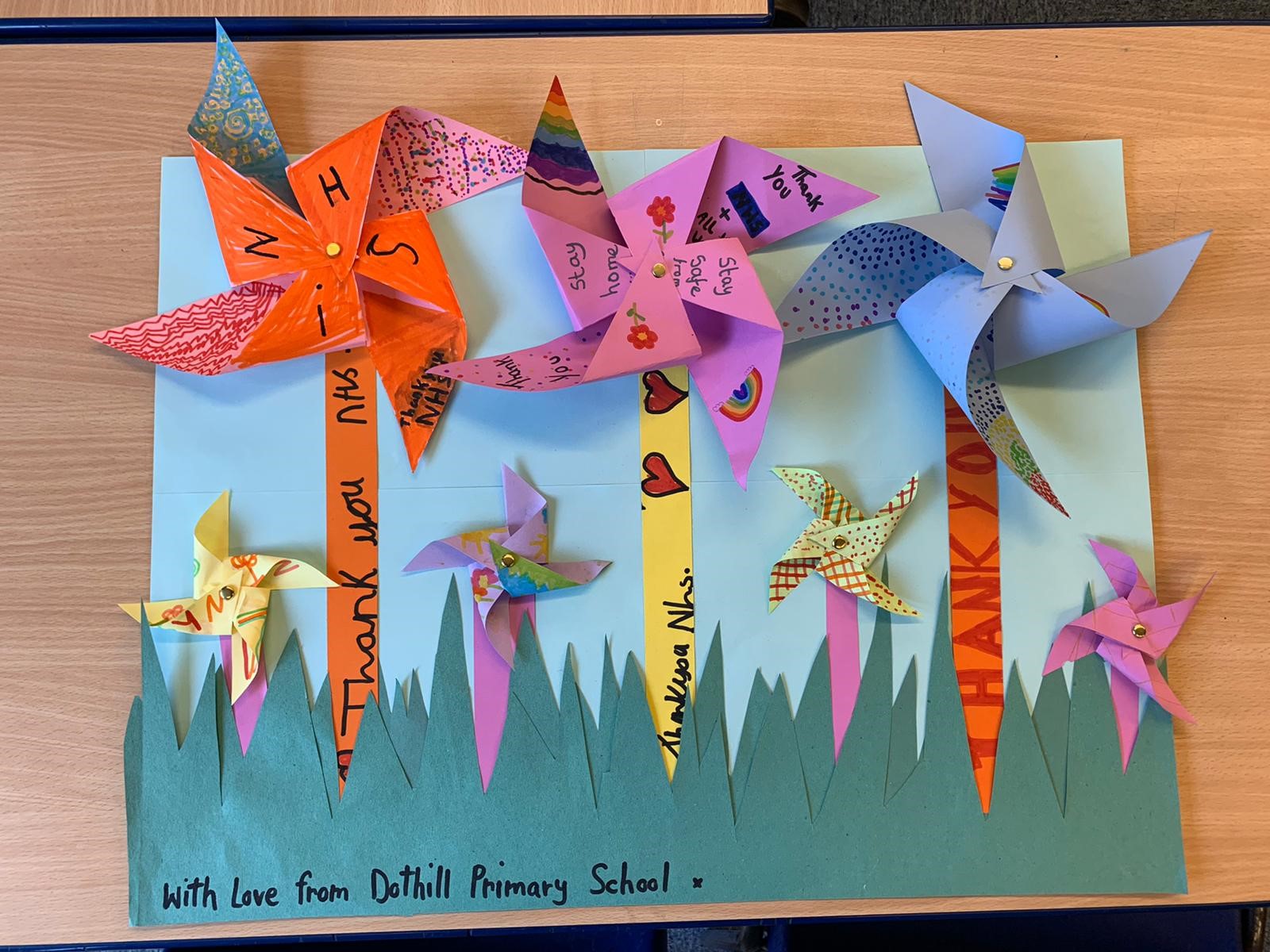 Whole School Sporting Events.
On Tuesday 28th January, eight year five children represented Dothill in the Telford and Wrekin Primary Schools Orienteering Competition held at Chetwynd Deer Park. The course took place on undulating ground and proved to be both very exciting and challenging, as the competitors had to find all the markers hidden on the course, as well as completing it in the fastest possible time. The children took part in teams of two and definitely improved their map reading skills! The Dothill teams all did exceptionally well and we are proud to announce that Francesca and Mason were the second fastest team to complete the course and to identify the markers correctly and, as a result, have been chosen to represent the Telford and Wrekin Langley School Partnership in the Shropshire Schools Summer Games. Well done to all the children on their brilliant achievement. Dothill Orienteering Team: Kyla, Ben, Abigail, Dereese, Scarlett, Sam, Francesca and Mason.
Mini Basketball
Six children represented Dothill in the Basketball Tournament held at Charlton School on Tuesday 21st January. They had lots of fun competing against the other primary schools and certainly improved their basketball skills, as well as demonstrating excellent sportsmanship.
All the matches were very closely contested and the team scored lots of goals, eventually losing to the finalists. Congratulations to the Dothill Basketball Team.
Basketball Team: Faye, Isabel, Payton, Ben, Mason and Levi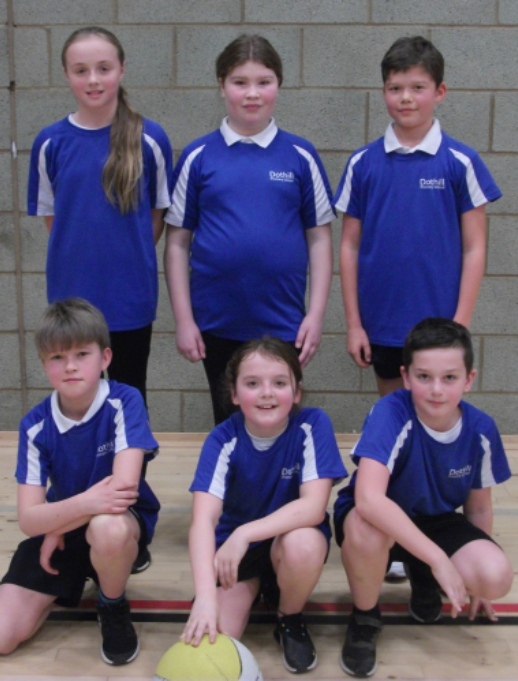 Archery
Six Year 6 children represented Dothill Primary School at the Telford and Wrekin Arrows Archery Competition which was held at Wrekin College on Tuesday 14th January.
The team enjoyed working together competing against twenty-four primary schools testing their accuracy by scoring points on a target and a distance challenge.
Archery Team: Reuben, Libby, Mia,Dougie, Pansilu and Liam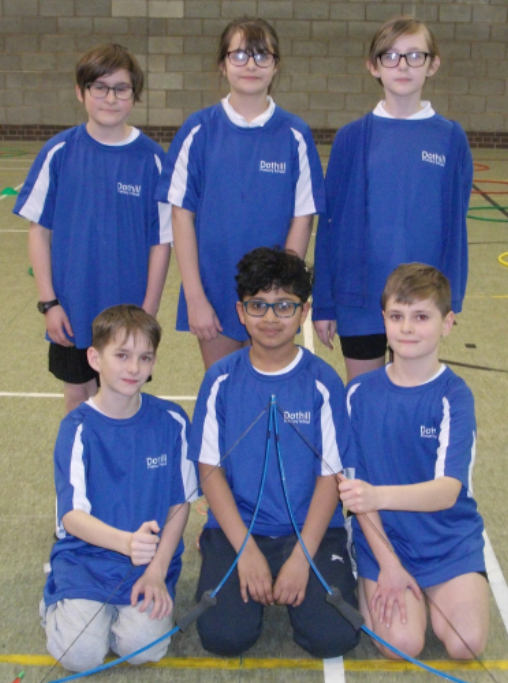 Quick Sticks Hockey
On Thursday 7th November, six pupils represented Dothill in the Telford and Wrekin Primary Schools Quicksticks Hockey Tournament held at Thomas Telford School. They played exceptionally well as a team, both in attack and defence, and scored some spectacular goals. Dothill were thrilled to learn that as a result of their superb achievement of scoring twelve goals against the other primary schools in their pool matches, they   progressed into the semi-final. They had a very exciting game against Newport Junior School which they narrowly lost.
Congratulations to the Dothill Hockey Team on 'being their best'.
Quicksticks Team: Leah, Brogan, Isabel, Will, Riley and Ethan.
Boccia
On Wednesday 13th November, six year 4 children represented Dothill Primary School at the Telford and Wrekin Primary Schools Boccia Competition. The Dothill team played well and thoroughly enjoyed taking part in the competition. Congratulations to Kade, Isabelle, Kyran, James, Ella-Mai and Emma.
School Games Award
Presentation Evening
On Thursday 21st November, we attended an awards   ceremony where Dothill was presented with our Platinum School Games Award. Thank you to Isabel and Ethan, who collected the award on behalf of Dothill. We are very proud to have achieved 'platinum' status for the second time.
Go Dothill!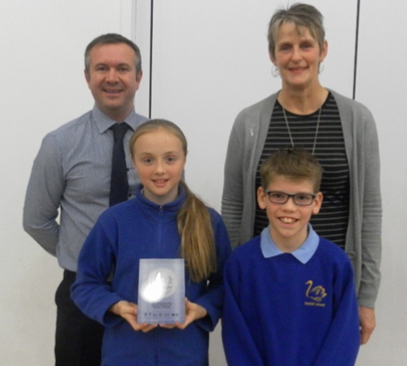 Celebrating local talent
A special mention and well done to two of our pupils, Finlay and Stella, who have helped Dothill in celebrating local talent. They have spoken to the whole school in assembly about Alice Kinsella, a local gymnast from Park Wrekin Club who finished 12th in the recent World Championships. Stella and Finlay presented Alice with a card to say congratulations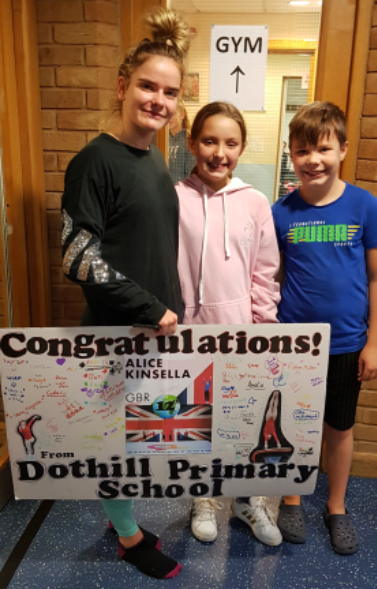 Netball Tournament
Congratulations to our new Dothill netball Team who participated in a Telford and Wrekin tournament on Thursday 3rd October. Despite the pouring rain they had a great time, winning four matches and drawing one. Thank you to Rhian Hickey who entered the team and supervised them at the event. Congratulations everybody!
Sportshall Athletics
Fifteen year 6 children represented Dothill Primary School at the Telford and Wrekin Primary Schools Sportshall Athletics Competition held at Telford College on 22nd October. The children competed against fifteen other schools in a variety of track and field events which included triple and long jump, javelin, speed bounce and some very exciting and closely contested relay races. The Dothill team performed exceptionally well and enthusiastically supported and cheered each other throughout the competition. The results of the afternoon were announced at the end of the event and Dothill were thrilled to be awarded fourth place. Congratulations to Dothill Athletics Team - Ellie, Lucy, Jasmine, Ava, Isabel, Brogan, Will, Jack, Max, Owen, Nabil, Ethan, Efe, Cameron and Michael.
Whole School Events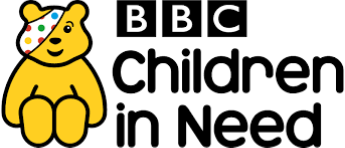 Well Done Dothill!
Thank you and well done to Dothill pupils for making an effort and dressing 'spotty' for Children in need. We raised a fantastic £346.07.
Planting a holly hedge at Dothill Nature Reserve for 'Every Tree Counts' campaign.
On Monday 2nd December, year 5 planted the second half of a holly hedge at the reserve near Old Charlton Pool. The trees were donated by The Woodland Trust as part of its 'Free Trees for Schools and Communities' scheme. In total, The Friends of Dothill Nature Reserve and social enterprise Telford Woods are being joined by Telford & Wrekin Council officers and volunteers to plant 150 hedgerow trees at the nature reserve.
The hedgerow natives, including hawthorn, hazel, holly and dog rose, have been chosen to provide a valuable habitat for wildlife and storing carbon.
We were joined by Tristan Haynes and Mike Hughes who showed us how to plant the holly hedges so they can be of most benefit for the local wildlife – please go and have a walk to find your child's holly bush. If you wish to, they can put a paper tag around it for easy identification! (No plastic tags though please).
Please click here to open the photographs from the event
Rugby World Cup!
On Thursday 25th September we watched an England Rugby game LIVE!
Thirty spaces were available to those children who wanted to watch the   rugby - we had 58 children return their reply slips within the first half an hour!
In order to not disappoint we arranged for the match to be shown in two classrooms meaning all 58 children were able to watch.
I am pleased to report that England played well with a fantastic result of 45—7 against the USA!
Christmas dinner
Thanks to the Friends of Dothill who bought us all party hats and Christmas decorations. These were in place of crackers as we are trying to be more environmentally friendly as a school. What a great time we had. Thanks to Donna and the team in the kitchen for a fabulous feast!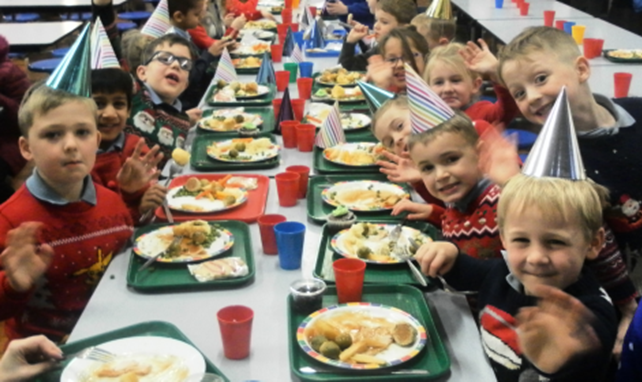 April 2020 - children in school have been producing some lovely artwork!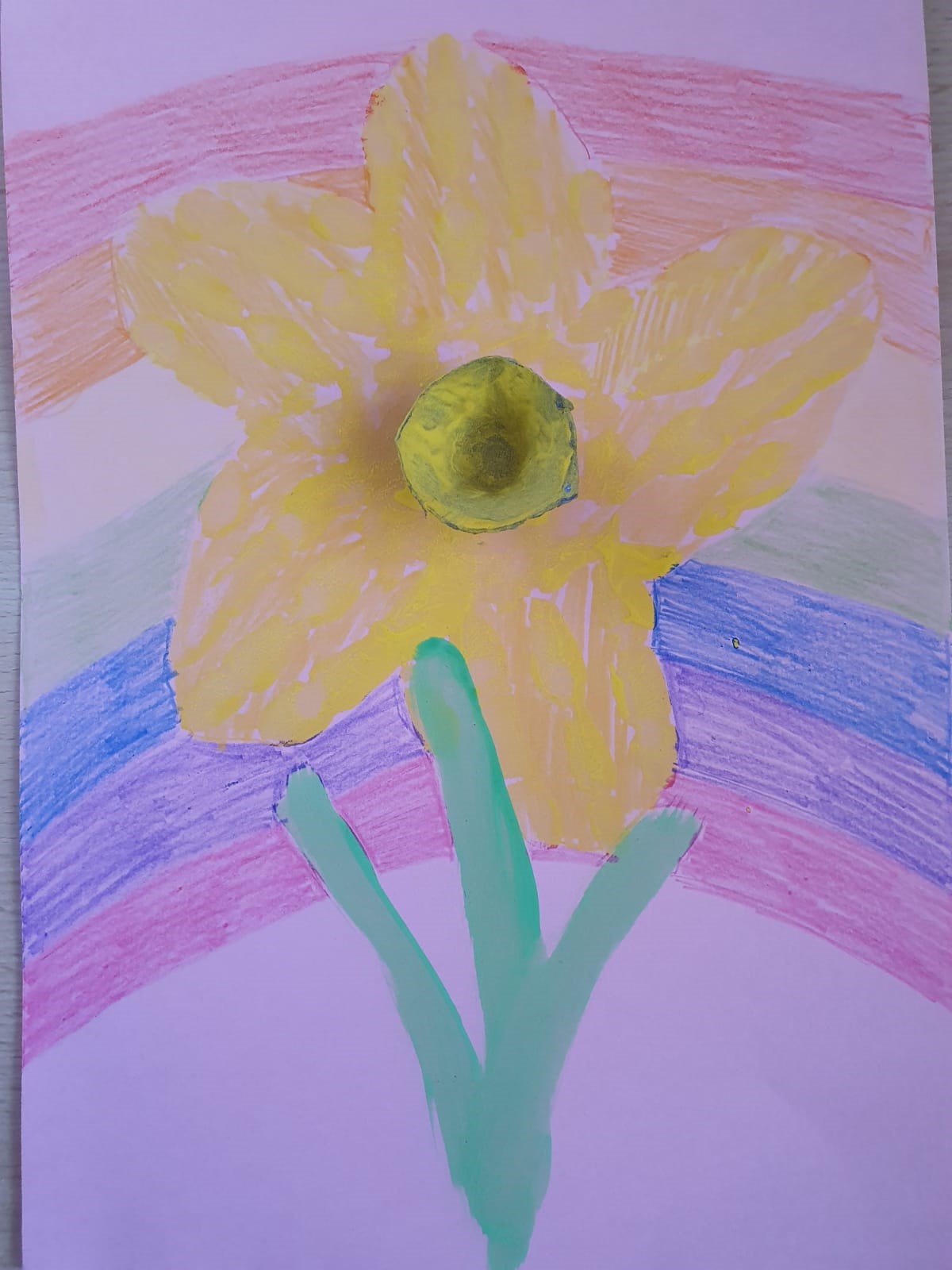 Don't forget to download the website app to keep up-to-date with the latest school news. More information in latest news folder.