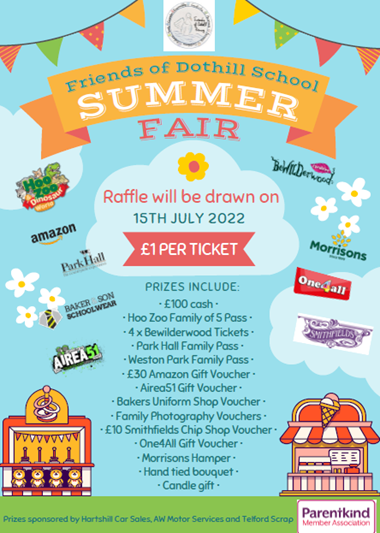 Raffle July 2022
The Friends are running a summer raffle. Each child has been given a book of raffle tickets to take home. If you would like to buy some/all of these tickets, please fill out the stub and return to the class teacher at school, with the money in an envelope.  
Each ticket is £1, a book is £5. Prizes include £100 cash and family days out! Please see poster below with all prizes listed.
If you are not able to buy tickets at this time, we would be grateful if you could return them to the class teacher so we can offer to others. 
If you would like more books of raffle tickets please message on The Friends Facebook page or email friendsofdothillschool@gmail.com.
We will notify all winners over the weekend of Friday 15th July and will also post the draw on the Friends Facebook page. Good luck!
Date Published: 06 Jul 2022