RE at Dothill

What does RE look like at Dothill Primary School?
At Dothill, we place emphasis on the importance of learning about and learning from the different religions. During RE lessons, we encourage pupils to share their experiences of religion and celebrate their own beliefs, as well as recognising the diversity which exists within and between communities and amongst individuals.
RE is a statutory subject in state school and we follow the Telford and Wrekin SACRE scheme of work. There are 28 units of work which will be covered from EYFS to year 6 (four units per year group). Christianity features in 20 of the 28 units, pupils will learn from Islam in 12 of the units and they will learn from Hinduism and Sikhism in 6 of the units.
A range of teaching strategies and resources are used within RE lessons to help our pupils to enjoy learning in a relevant and meaningful way. In addition, we celebrate major festivals and share stories from other cultures.
Why is RE important?
It is important for pupils to engage with RE because we believe it is vital to teach pupils about the traditions and values of different world religions.  
We aim to ensure that pupils know about and develop an understanding of a range of religions so that they can describe and explain beliefs and practises.
It is our intention that teaching this subject at Dothill will allow pupils to gain and effective use the skills needed to engage with different religions and views in our changing world.
Curriculum Overview
At Dothill, we use the agreed syllabus provided by the local SACRE (Standing Advisory Council for Religious Education) to help us plan progression in teaching RE.
You can find the topics covered in each year group below. 
Recovery Curriculum
Here you will find our recovery curriculum document. It explains how the curriculum meets the needs of all pupils in light of the Covid-19 pandemic.
Virtual Library
Find out about different religions and beliefs by clicking on the books on the bookshelf. 
Other Useful Websites
Key Stage One
Key Stage Two
Examples of Work
Take a look at what the children have been up to during their RE lessons.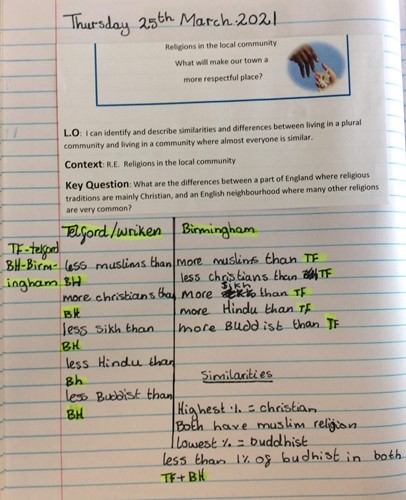 We are holding 3 open mornings for prospective parents of new intake (September 2022 starters) - please see latest news for more information.